British woman Natalie Creane fights UAE hotel for brain injury compensation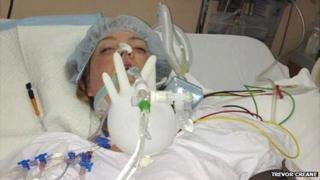 Life was "perfect" for ex-pat couple Trevor and Natalie Creane. They were living a successful and happy life in Dubai and were due to get married.
But while on a celebratory trip in Abu Dhabi, Natalie Creane was struck on the forehead by a wardrobe panel.
She was taken to hospital and in the words of husband Trevor, 42, began living "four years of hell".
The couple is now fighting the Emirates Palace Hotel for compensation to help pay for Natalie's constant care.
"We moved to Dubai about 10 years ago," said Mr Creane.
"Life was perfect. We were living in the Emirates, it's a fantastic country and we experienced a fantastic lifestyle with great jobs."
'Lying unconscious'
Mrs Creane, 33 and originally from Essex, was unpacking and putting her shoes into the bottom of the wardrobe at the Emirates Palace in Abu Dhabi in July 2008, when the wooden panel fell down and hit her on the head.
Mrs Creane, who previously worked as a successful HR manager, was diagnosed with a traumatic brain injury and a serious form of epilepsy.
"I was at work one day and had a phone call saying that Natalie was lying unconscious at the bottom of the stairs.
"I rushed home and that was the start of it. Since then she's had times when she's head seizures every day with all sorts of side effects like paralysis, not being able to speak and not being able to see. She cannot be left on her on own.
"Once she nearly drowned when she had a seizure in the bath, luckily her mother found her in time.
"She's suffered broken arms, broken wrists and smashed her face as a result of the seizures as she just blacks out."
Mrs Creane's treatment and care had been covered by private medical insurance. But Mr Creane said once the policies expired, it was impossible to arrange cover for his wife.
"The situation is becoming unmanageable, she needs to see specialists and there is no way we can afford that."
A case against the hotel, part of Swiss-German chain Kempinski, was filed in 2010 and is still going through the Abu Dhabi courts.
The hotel, which is defending the legal action in Abu Dhabi, said it would not comment while the case was before the courts.
Mrs Creane has just been released from hospital in Dubai after suffering a large seizure and having been put into a coma for the fifth time.
Her husband said she was taking four different medications, some which altered her personality and left her unable to walk and talk or recognise members of her family.
"We are all terrified right now for Natalie," said Mr Creane. "The doctors have told us she may not survive another large seizure.
"She is in such a state now and has been through so much.
"She needs rehabilitation, treatment, potentially surgery and even then, we don't know if it will work or what the future will hold. We are all just petrified."
A hearing is taking place on 9 August at the Abu Dhabi Courts of First Instance.