Hereford and Folkestone racecourses to close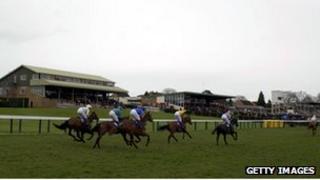 Hereford Racecourse is to close following unsuccessful attempts to extend the lease from the county council.
It is rented by Arena Leisure and Northern Racing who said the lease was not long enough to justify further investment.
The company has also announced the temporary closure of Folkestone racecourse.
It said it "may reopen in the future" subject to talks with Shepway Council.
Tony Kelly, managing director of Arena and Northern Racing, "Attempts to extend the lease [at Hereford], which has 17 years remaining, have been unsuccessful.
'Outdated facilities'
"Despite being unviable for several years we have supported the racecourse, but much needed investment, required to breathe new life into the racecourse, cannot be justified in the absence of a long-term future for the business."
He also said that Folkestone had "outdated facilities" and had been the subject of discussion for several years.
Mr Kelly said a proposal for the site included residential development and would have enabled a new racecourse to be constructed.
He said the plans have been delayed, but hopes they will be approved and will secure the future of the racecourse in 2013.
Racecourse fixtures currently staged at Hereford and Folkestone will be transferred to other racecourses within Arena and Northern Racing.
Mr Kelly added: "Every effort to continue trading at these racecourses has been explored but it is with regret that a variety of circumstances means that this is no longer possible."