Injured soldier makes 'epic' trek from Catterick to Chester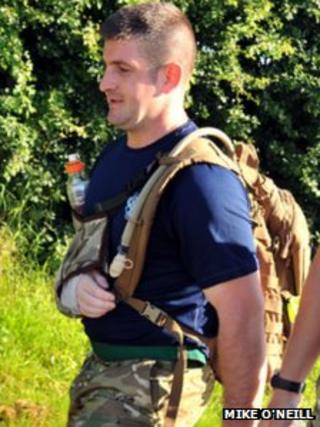 A Cheshire soldier who lost the use of his arm in an explosion in Afghanistan has completed an "epic" trek to fund a memorial to fallen soldiers.
Cpl Mark Tonner took four days to trek 154 miles (247 km) from his Catterick base in North Yorkshire to Chester.
The 29-year-old from Runcorn wants to raise money towards a memorial to members of his 1st Battalion Mercian Regiment who have died in combat.
He said he "would walk to the ends of the Earth" for his unit.
Cpl Tonner was injured whilst serving with the regiment in Helmand in 2010, a deployment which saw 12 soldiers from his unit killed.
He said he had been on "on a normal patrol" when he sustained his injury, which left him with limited movement in his right arm.
"As we were crossing a tree line, a command wire device detonated. I was flung 10 or 15 feet and it felt like someone was pouring hot water down my arm," he said.
'Continued support'
Cpl Tonner said he wanted to fund the memorial to his comrades to thank his unit for "continued support".
"The battalion has done a lot for me and so I wanted to help it raise money for a memorial, [as] at our camp in Catterick we have not yet got anything to remember our lads by," he said.
"I would walk to the ends of the Earth if they asked me to."
The soldier passed through Ripon, Harrogate, Skipton, Stockport, Warrington, Runcorn and Helsby en route to Chester.
He said he had chosen to pass through the towns "because each has strong links with the battalion and because some of the lads that were killed were from these places".