Shafilea Ahmed murder trial: Jury urged to 'put aside revulsion'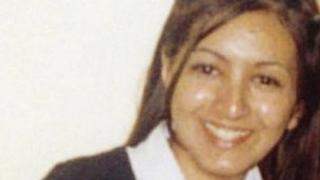 The judge in the Shafilea Ahmed murder trial has told the jurors to "put aside any feelings of sympathy and revulsion" as they consider their verdicts.
Mr Justice Roderick Evans has begun summing up in the trial of Shafilea's parents, Iftikhar and Farzana, at Chester Crown Court.
The couple both deny murdering their 17-year-old daughter at the family home in Warrington in September 2003.
Mr Justice Evans urged the jury to rely on common sense.
He told the jurors: "Discuss the evidence coolly and calmly."
'Westernised' lifestyle
He added that there was "no special way" or "secret formula" to reach a verdict.
"You came here from different backgrounds, brought at random," he said. "You all have different life experiences and you all have common sense.
"The way to decide is ordinary, everyday common sense and if you do that I have every confidence."
Shafilea's body was found on the banks of the River Kent in Cumbria in February 2004, six months after she disappeared.
The prosecution claims she was murdered by her parents because she brought shame on the family with her desire to lead a "westernised" lifestyle.
Shafilea's sister Alesha gave evidence at the trial, claiming she and the rest of her siblings witnessed the killing at the family home in Liverpool Road.
Taxi driver Mr Ahmed, 52, denies murder, saying Shafilea ran away from home in the middle of the night and he never saw her again.
Mrs Ahmed, 49, also denies murder, but told the jury she saw her husband beat her eldest child and she believes he killed her.