Shafilea Ahmed murder trial jury considers verdict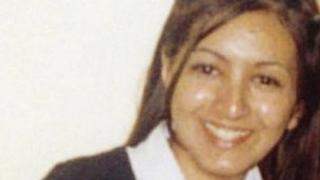 The jury has been sent out to consider its verdict in the trial of a couple accused of murdering their daughter.
Shafilea Ahmed went missing from her home in Warrington, Cheshire, in 2003 and was found dead on the banks of the River Kent in Cumbria six months later.
At Chester Crown Court, Iftikhar, 52, and Farzana Ahmed, 49, both deny the 17-year-old's murder.
The prosecution claims Shafilea was killed by her parents because she brought shame on the family.
Mr and Mrs Ahmed are alleged to have suffocated their daughter with a plastic bag.
The 10-week trial heard evidence from Shafilea's sister Alesha, who claimed that she and the rest of her siblings witnessed the murder at the family home.
Taxi driver Mr Ahmed denies murder, saying Shafilea ran away from home in the middle of the night and he never saw her again.
Mrs Ahmed also denies murder but told the jury she saw her husband beat her eldest child and she believes he killed her.
Judge Mr Justice Roderick Evans has urged the jury to rely on common sense when reaching its verdict.