West Auckland flood scheme subsidence concern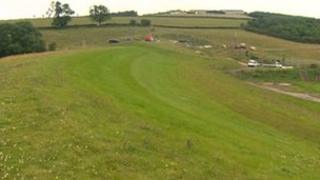 Safety inspections are under way after subsidence was found on the site of a County Durham flood protection scheme.
The £3m structure, a raised bank which acts as a dam and storage facility, protects more than 600 homes in South Bank and West Auckland.
It was built following severe flooding in the area in 2000.
Some local residents have criticised the decision to locate it over former mine workings, but the Environment Agency said there was no risk to homes.
Don Robinson, from the Environment Agency, said: "We've got some depressions just upstream of the dam, which may be linked with the mined area."
He said engineers were on the site and any necessary work was expected to be complete by late autumn.
Susan Gilbey, whose home overlooks the dam, said: "They should have done their homework.
"It was obvious to anyone walking in the area that there was evidence of mine shafts and everything to do with mining.
"It is also evident from maps of the area that a colliery was there."
Mr Robinson said: "This whole area has been heavily mined over the years, and almost everywhere in the area has former mine workings underneath.
"We had to put the dam somewhere and this was the best location.
"It had the least amount of mine workings and also gave us the required storage volume."
He added: "There is no problem with the dam itself, it's not showing any signs of moving at all."