Shooting gold medallist Peter Wilson 'a super shot'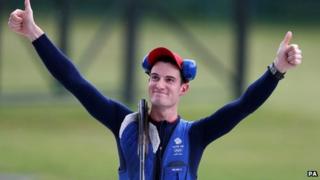 Friends of Olympic gold-medal winning marksman Peter Wilson have described him as a "super shot".
The 25-year-old from Dorset won the London 2012 men's double trap final at the Royal Artillery Barracks by two shots.
Born in Dorchester, Peter Wilson grew up on his family farm at Glanvilles Wootton, south of Sherborne and learnt to shoot at the nearby Southern Counties Shooting club.
He attended Millfield School in Somerset and studied design at Bournemouth University.
'Element of chance'
Speaking during the final day of shooting, Mr Wilson's father Charles recalled how his son only fell into the sport after nerves in his shoulder were damaged in a snowboarding accident.
"There is always an element of chance in these things - it meant he couldn't play all the contact sports he loved, like cricket and rugby," Mr Wilson said.
"He started shooting one handed, with his arm in a sling. I thought I could make a fortune out of betting how many people he could beat shooting one handed - unfortunately that never came to pass!"
However after surgery on the shoulder, he became national schools champion and a European junior championship title followed.
Watching his son win gold at his first Olympics has come four years after cuts in funding from UK Sport meant Mr Wilson had to financially support his son as he rose through the world rankings.
He was eventually helped by Sheikh Ahmed Al Maktoum, a member of Dubai's ruling family.
The double trap gold medallist from the 2004 Athens Olympics saw enough potential in the Dorset marksman to offer to coach him for free.
Mr Wilson travelled to Dubai to train and the pair have been speaking regularly on the phone in the run up to the Olympics.
'Got the dedication'
"He's shown he can handle the atmosphere and the range," said Mr Wilson.
"There's so much support here from people from Dorset and friends he shoots with.
"He's always been one to make friends with other competitors - he's been playing ping pong with the Chinese and cricket with the Indians."
Much of Wilson's training has been done at the Southern Counties Shooting club.
Manager Kevin Newton was among those back at the club following the climax to the final at Woolwich.
He described the British number one, who he has known for 10 years, as "a very nice young man, always willing to help.
"He's a super shot and he's got the dedication - he eats, sleeps and dreams shooting," he added.
Mr Newton said British success at the Olympics was a boon for British shooting.
"It raises the profile of the sport. When Richard Faulds won gold in Sydney it did the sport no end of good, we had lots more people wanting to take part. It gives it a real boost."