Riots one year on: Indie music rises from the ashes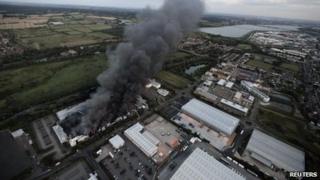 As thousands of CDs and records went up in smoke the already hard-pressed indie music industry looked set to face yet another challenge.
When the Sony DADC centre in Enfield was set on fire by rioters some in the industry warned it could be a "watershed moment" for small independent labels already struggling with the threat posed by digital downloads and illegal file-sharing.
But one year on the centre is poised to reopen and there have been no reports of labels going bust as a result of the arson attack.
So how has indie music risen from the ashes of the England riots?
Alison Wenham, chairman of the Association of Independent Music (AIM), said after the fire the focus became about financial support.
She said: "We very quickly put together a disaster fund for those labels affected.
"By Wednesday (10 August) we had £350,000 donated or advanced by larger independent labels who had also been affected but not to the same extent."
Sales impacted
She said there was "no question" the crisis loans had averted disaster for small labels which otherwise had no way of meeting costs.
"Speed was of the essence because they had no stock and sales would be impacted for six to eight weeks," she said.
One label that received a loan was Stolen Recordings, which is based in Tottenham.
Merida Sussex, from the label, said: "The riots came halfway up my road and the post office we used for mail orders was burnt down - it was pretty frightening."
Stolen Recordings also lost its stock in the Sony DADC fire including an album by American band Jeff the Brotherhood which was set to be released the next day.
She said: "We had to get it repressed as an emergency order.
"It was a really terrible time but it seems like a million years ago now."
She added the loan had helped them out while they waited for insurance money to come through - a year on they are still waiting for half of their payout as their distributor tried to get government compensation before claiming on insurance.
Wider implications
She said the support offered to small labels by bigger names might seem unusual in business but made sense when looking at the wider implications if small labels ceased trading.
"They (big labels) want to keep innovation in music going," she said. "They don't want the small labels to get swallowed up so it's about looking after the future of music."
After the fire Sony DADC began operating from a base in Hoddesdon, Hertfordshire, while PIAS partnered with company Proper Music Distribution in order to help get CDs to retailers.
The damaged stock has now been replaced and Christina Schobesberger, spokeswoman for Sony DADC, said the centre had been rebuilt at its original site in Enfield - it will be officially reopened in September.
She added the fire had a "multi-million pound impact".
For retailers the fire had less of an impact with some stock being repressed almost immediately.
Kim Bayley, director general of the Entertainment Retailers Association which represents music, DVD and computer game sellers, said: "Retailers were very concerned that there would be a lot of trouble with products out of stock which wouldn't be remanufactured.
"But the distributors did an amazing job getting things back on track really quickly."
Lawrence Montgomery, managing director of Rise, an independent music retailer with shops in the south-west of England, agreed most stock was back to normal levels but he said some rare items would never be repressed.
He said: "The sales people were really quick to get everything back up and running.
"Labels are still returning to normal and a lot of releases are never going to get restocked."
This is because it can be uneconomical to repress small album runs which will not sell more than a few hundred copies.
Nobody has been convicted over the fire but one year on police investigations are continuing.
A total of seven people have been arrested with six of them being released without charge.
A Metropolitan Police spokesman said one of those arrested, a 23-year-old man, was re-arrested in Enfield on 20 July on suspicion of criminal damage by arson with intent to endanger life in connection with the fire and bailed until September.