Wiggins cycling helmet response: Debate rolls on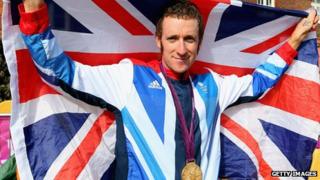 Comments by Olympic Gold medal winner Bradley Wiggins suggesting the wearing of helmets when cycling should be compulsory prompted a huge amount of debate on the BBC news site.
Wiggins said there should be new laws after a cyclist was hit by a bus near the Olympic Park.
It has not been revealed if the man, who died at the scene, was wearing a helmet, but Wiggins said cyclists should wear helmets to make sure they had done all they could to keep safe.
His opinion lead to many hundreds of comments on the story with some backing his views while others objected to a new law for cyclists.
'My helmet saved me'
One person who agrees with the Tour De France winner is Steve Wilkinson, from Lichfield, in Staffordshire.
The 51-year-old was in a road accident while out cycling in April.
He said: "I was knocked off my bike by a bus at some crossroads and dragged along the road for what seemed like an eternity before the bus driver stopped the vehicle.
"The helmet was broken into three parts on impact with the bus and hitting the road. The driver's windscreen was also smashed.
"My helmet saved me from suffering serious head injuries.
"A good helmet is worth spending money on - it could save your life. I wouldn't like to have been my wife or family if I hadn't been wearing one."
The accident left him with grazing and bruising and a suspected broken rib. He was off work from his job as a bank manager for a week and took about six weeks to fully recover physically.
He is a keen cyclist who rides regularly for pleasure and to keep fit but he said since the accident he felt nervous when out on his bike and when driving.
And he is pleased that a high profile athlete has spoken out on the issue.
He added: "It's great that someone as high profile as Bradley Wiggins is supporting the wearing of helmets and trying to make it compulsory.
"Since my accident, I still cycle a lot and see many other cyclists riding without helmets.
"I find it hard to believe why they wouldn't wear them. They'd be a lot safer if they wore them."
'The big problem is the attitude of motorists'
Doug Hall thinks making helmet wearing compulsory would put people off cycling.
The 70-year-old voluntary worker from Clifton upon Dunsmore, in Warwickshire, tries to cycle or walk when going to work or visiting friends and is also a motorist.
He said: "I haven't had an accident. I try to be as careful as I can, not that that matters if someone hits you, but I think the big problem is the attitude of motorists.
"British motorists have a bad attitude towards cyclists which I think should be addressed at the initial stages when someone is learning to drive."
He said he did not have a problem with people wearing helmets and thought they did offer protection from head injuries but he did not wear one himself because he found it impractical.
'Put people off'
"Some people will be put off for cosmetic reasons - they don't like wearing something like a helmet but the other thing is when you go out you jump on a bike and when you get to the end of your journey you don't want to have to carry a helmet around with you," he said.
"Passing a law to make cyclists wear a helmet will put people off using bikes. Surely we want to encourage more people to use a bike not less."
He added bike rental schemes such as the one in London would not be able to operate.
"The ideas of Bradley Wiggins are not practical and should be ignored," he said.
"It is wrong to put restrictions on cyclists when the problem is mainly down to bad driving by motorists."