Police say cuts may be 'too hard and fast' in Devon and Cornwall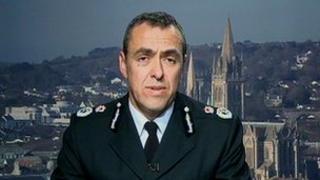 A police force has said it may have cut "too hard and too fast" in reducing officers from Devon and Cornwall.
Acting Ch Con Sawyer said the loss of 700 officers, including 100 neighbourhood officers, may need to be reconsidered and reversed.
The cuts have been made in a bid to save the force £51m over four years.
Nigel Rabbits, chair of the Police Federation, said: "The crime figures support that the force isn't fit for purpose."
'Real concerns'
Acting Ch Con Sawyer said: "We took officers out of the geography and communities they knew and redeployed them mindful that we have to reduce by 700 police officers.
"Some of that on reflection was probably too hard and too fast and I accept that and some of that we need to put back."
Mr Sawyer added the neighbourhood officers would be released from the force despite it being the "heart of our service".
Mr Rabbitts, chair of the federation, which represents rank and file officers, said: "The overall reduction of officers is having an effect on communities, the visibility of the police and the way they respond to the crimes.
Increased crime
"The force has reached a pinnacle now and if it continues to reduce the number of officers there are real concerns about the real ability of Devon and Cornwall Police to provide the relevant policing."
A recent report by HM Inspectorate of Constabulary (HMIC) claimed the force may not be able to provide a proper service due to the cuts
The report on the impact of 20% funding cuts to police in England and Wales by 2015, showed that crimes including sex offences, burglary and robbery had increased in the region since the cuts took effect, going against the national trend.
Figures from the Office for National Statistics released last month showed the number of recorded criminal offences in Devon and Cornwall had increased by 5.9%.
The force recorded nearly 91,808 crimes in the 12 months to the end of March 2012, up from about 86,500 from the year before.
The force has an annual budget of about £255m and is due to see its number of officers drop from 3,500 in March 2010 to about 2,800 in March 2015.