Extra Southeastern seats for women's Olympic 2012 marathon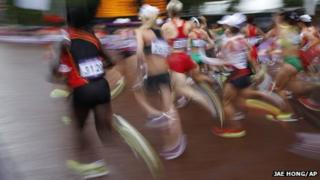 A train firm has added an extra 243,000 seats on its services from Kent and East Sussex to cope with increased demand from Olympic spectators.
Southeastern said there would be 118% more seats than usual on Sunday.
The company expected the Women's Olympic Marathon, which started at 11:00 BST in central London, to draw big crowds from across the South East.
About 1,000 extra staff are working across the rail network to help with crowd management.
The train company said it added an extra 209,500 seats on Saturday and 168,800 on Friday, with 98% of services arriving on time on both days.
It has also urged people with tickets to the Olympic Park to use the Javelin trains between St Pancras and Stratford.
The marathon, which started in the Mall, passes Buckingham Palace, Birdcage Walk, St Paul's Cathedral, Tower Bridge and the Houses of Parliament.
Britain's Paula Radcliffe was ruled out of the race because of an osteoarthritis problem in her foot.
She has been replaced by 28-year-old Freya Murray who has been training as a reserve since April.