Gatwick businesses back Redhill aerodrome hard runway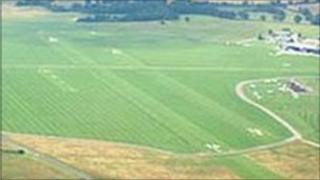 Businesses in the Gatwick area have backed a plan for a hard runway at a Surrey aerodrome, saying refusal would stand in the way of economic recovery.
Gatwick Diamond Business said Redhill Aerodrome's plans would bring real economic benefits and create jobs.
The aerodrome submitted new plans last month to replace three grass runways with a concrete one. Two councils turned the scheme down last year.
Nutfield Conservation Society said there was no demand for the airport.
The expansion plan would give Redhill Aerodrome Ventures Ltd (RAVL) potential to increase the number of flights from 60,000 to 85,000 a year.
RAVL boss Jon Horne has said the new application addresses the reasons for refusal in 2011, reducing the planned hard surface area by 25%.
It reduces changes to the landscape and noise impact, and includes proposals to improve road safety and public transport connections, he said.
'Inward investment'
"We strongly support the application," said Jeremy Taylor, chief executive of Gatwick Diamond Business.
"This development will raise the profile of the north of the Gatwick Diamond (and) demonstrate that there is economic confidence in difficult times.
"It will be easier to attract inward investment and attract people to work in the area.
"The development not only creates new employment but secures the 450 jobs that are on the Aerodrome."
More than 1,000 people signed a petition against the original plans. Objectors included East Surrey MP Sam Gyimah and Nutfield Conservation Society.
The society said it would be studying the new application before raising strong objections again.
"We maintain the view that there is no demand for another commercial airport so close to Gatwick and Biggin Hill and would wish Redhill to remain as a rural airfield," it said.
"Their projections regarding job creation primarily involve jobs being relocated from elsewhere with no net overall gain locally."