Thames Valley Police YouTube rap video gets 15,000 hits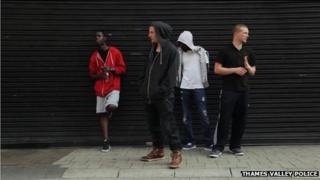 A rap video commissioned by Thames Valley Police to try and combat youth violence following last year's riots has had over 15,000 hits on YouTube.
Eye for an Eye was created by five young rappers and two producers and was posted online two months ago.
Ch Insp Colin Seaton said a police-instigated rap was not "perhaps the most attractive proposition for a young person".
However he said he hoped it would help the police "engage" with young people.
Shooting
"During the riots that happened across the country last year, we had some pockets of disorder in the Thames Valley area, including some in High Wycombe", he said.
"Since then, we have also had some serious, high profile crimes happen in the town, including a shooting where young people were involved.
"In order to prevent further escalation, we decided we needed to do everything possible to really engage with the young people in our community."
The video features grime artists Lola Coca, Styler, Sicx, Dimples and Treasure and can be downloaded.
Any money raised from downloads will go towards the Ben Kinsella knife crime charity and local community projects.