Victoria Pendleton's final Olympic cycle 'tainted'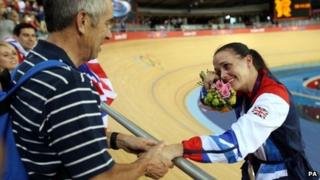 Victoria Pendleton's father said the cyclist's final race before retiring from the sport had been "tainted" and "tinged with bitterness", despite her winning an Olympic silver medal.
The 31-year-old lost her Olympic sprint title to Australian Anna Meares at the London 2012 velodrome on Tuesday after winning gold in Beijing.
The venue filled with boos after officials relegated Pendleton from the first final heat for allegedly breaking the rules.
Her father Max said despite her losing her Olympic title due to an official's decision, she had still done "exceptionally well" to get silver.
Pendleton was a favourite to win this year's sprint title, but in the final she had to face her fierce rival Meares, whose burst of speed in the final leg meant she got her hands on her second gold in eight years.
In an emotional interview after the race Pendleton, who was born in Stotfold, Bedfordshire, said she could not believe her career was over, and said: "I'm just so glad that's it all done and I can move on."
Max Pendleton, who watched the race with his family in the stands, said it would have been nice to have had a "fairytale ending" for his daughter, but it was not meant to be.
He said: "After the race she came over to me and she was so concerned she'd let everybody down and apologised - I said, 'of course not you silly devil'.
"After the BBC documentary that was shown on TV before the Games, I think people really stopped seeing her as an athlete and started to love her and become endeared by her.
"Sprinting is so, so pressured; the only thing you haven't got is a weapon.
"It's a shame. It's a bit tainted and does leave something of a nasty taste. There's a certain tinge of bitterness.
"She did do exceptionally well and if the outcome was decided in three rides there would have been nothing to dispute."
Despite the disappointment, Mr Pendleton said Anna Meares was an "incredible competitor".
Dave Brailsford, British Cycling performance director, said of Pendleton: "If you look for every aspect of a true champion, she possesses them. I'm sure she'll take that into the rest of her life."