'Devonwall unlikely' after Lords coalition dispute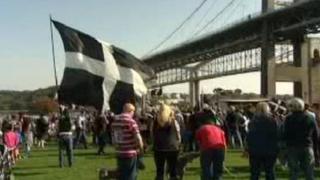 Plans to combine parts of Devon and Cornwall into a new parliamentary constituency could be in doubt following a coalition dispute.
The boundary changes were proposed as part of a plan to reduce the number of MPs and make constituencies more equal.
But, after Conservative backbenchers blocked reform of the House of Lords the Liberal Democrats withdrew support for the boundary changes.
The plan for a "Devonwall" constituency sparked anger in both counties.
'Sense of identity'
When it was announced in 2010, about 500 people took part in a joint protest at the Tamar Bridge.
On both sides of the River Tamar - the river which separated the two counties - opponents claim both have separate cultural identities and economic priorities which should be recognised.
Local MPs also criticised the proposed changes.
North Cornwall Lib Dem MP Dan Rogerson said Cornish people had a particular sense of identity, while in Devon, Torridge and West Devon's Conservative MP Geoffrey Cox said he could not understand the logic of the plan.
Despite the Lib Dem decision to withdraw party support, Prime Minister David Cameron said the plans to redraw constituency boundaries would be "put forward".
Mr Cameron said: "It became quite clear to me that the Labour Party and others in Parliament weren't going to allow [the] Lords reform through, and I was not going to have month after month of wrangling when the real issue facing this country is getting our economy moving.