Jessica Ennis Olympic gold win inspires baby name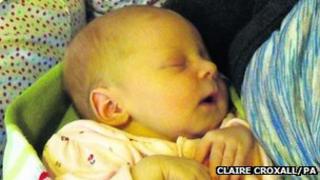 A woman who missed going to the Olympics because she went into labour has named her new daughter after gold medal winner Jessica Ennis.
Emily Lee, 29, from Derry Hill, Wiltshire, was meant to be in the Olympic Stadium with husband Henry, 30, on Saturday to see Ennis's triumph.
She gave birth to 6lb 9oz Beatrice Jessica Lee at Bath Hospital at around 20:30 BST.
Jessica Ennis has congratulated the couple with a message on Twitter.
Ms Lee said: "After she was born the first thing Beatrice Jessica did was watch Jessica Ennis win her race in her dad's arms in front of a television in the hospital.
"Afterwards my sister tweeted Jessica Ennis to tell her she was the inspiration for our little girl's middle name and she was thrilled, really pleased and she sent us back a message congratulating us."
Mrs Lee, who is originally from Redditch, Worcestershire, planned to travel from the couple's home to watch the athletics despite the due date for the baby having been days earlier on 31 July.
Mr Lee said: "We thought it would be OK even if Emily got a bit excited because there would be loads of paramedics in the Olympic Park.
"But Emily went into labour at 4am that morning and we ended up giving our tickets to a friend and his girlfriend visiting from Brazil."
The couple said that they had not previously considered Jessica as a name for their daughter but they chose it after being inspired by Ennis's performance.
Mrs Lee said: "We've got big plans for her, hoping she'll be a future heptathalete, like her namesake."