Donald Neilson 'asked staff not to keep him alive'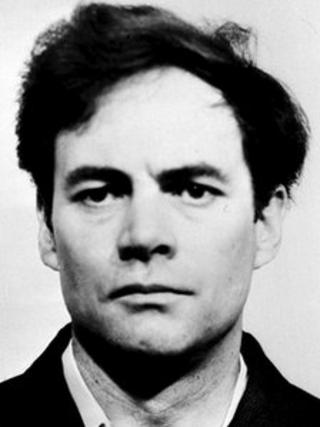 Multiple murderer Donald Neilson asked prison staff not to keep him alive if his health deteriorated, an inquest has heard.
The 75-year-old, who became known in the media as the Black Panther, died of pneumonia in December 2011 after being taken from Norwich Prison to hospital.
Neilson, from Bradford, was convicted of four murders, including that of 17-year-old heiress Lesley Whittle.
He was jailed for life following a trial in 1976.
He shot three sub-postmasters dead during armed robberies between February and November 1974, before kidnapping and murdering Miss Whittle in Shropshire in January 1975.
After more than 30 years in prison, he had been diagnosed with the irreversible muscle-wasting condition motor neurone disease in 2009, the inquest heard.
"Challenging and unco-operative"
He was then moved to Norwich Prison from Full Sutton in East Yorkshire.
Claire Watson, offender health commissioner for Norfolk and Waveney NHS Trust, said he was "becoming increasingly dependent on others".
She described Neilson as a "challenging and unco-operative" patient who had asked medics not to resuscitate him if he suffered a cardiac arrest.
"Norwich Prison was thought to be the best place for his needs," she added.
"Prisons aren't the best place for people who can't dress themselves and can't wash themselves.
"Norwich has a specialist wing which does provide a level of care over and above what you would find in a normal prison."
She added: "He was a challenging and unco-operative patient and staff at the prison are to be commended for the level of care they provided which was equitable with that he would have received in the community."
'Daughter's thank you'
Prison officer Richard Baird-Parker was on duty on the day of Neilson's death and was called to the hospital to maintain a "bed watch" on the killer.
"I knew him quite well and I knew he was severely ill," he said.
"I was present when he was pronounced dead at about 6.30pm."
Norfolk Coroner William Armstrong said: "At the time of his death he struggled to do even the most basic things and was virtually dependent on other people."
He added that Neilson's family had been informed of the inquest at Norwich Coroner's Court but chose to stay away.
Relatives did not visit him in jail, although after the inquest it emerged that his daughter, Kathryn, had sent prison staff a card thanking them for the care they provided.
A jury returned a verdict that Neilson, who had contracted pneumonia, died of natural causes.
Mr Neilson's first victims were Donald Skepper, killed in Harrogate, North Yorkshire; Derek Astin, in Higher Baxenden, Lancashire; and Sidney Grayland, in Langley, West Midlands.
He was also responsible for about 400 burglaries during a 10-year criminal career.
He was dubbed "The Black Panther" by the media after a witness described his dark clothing and powerful physique.