Olympic swimming leads to swans moving from Serpentine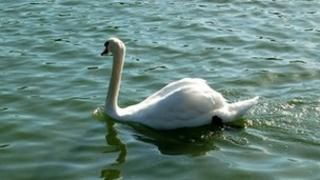 Swans have been moved to a "holiday camp" in Berkshire while Olympic events take place on London's Serpentine lake.
Three families of the Royal Swans have been taken from Hyde Park, venue for the triathlon and open water marathon.
Team GB swimmer Keri-Anne Payne said: "The swans are on holiday at a holiday camp. They take their families."
Kay Webb, of Swan Lifeline, said the move could avoid "a swan being sliced in half by a boat in front of an international audience".
The charity in Eton, Berkshire, is housing 15 of the lake's swans, including nine cygnets.
A spokeswoman for the Royal Parks said: "Due to the influx of activity in Hyde Park throughout the Olympic Games, the Royal Parks wildlife officer has decided that these swans should be temporarily relocated.
"This decision has been made for the protection and safety of the birds during this busy time.
"Swans, as with humans, are highly protective of their young. Relocation would give them peace of mind during a busy period at the park."
Single swans still remain on the lake. Wildlife officers said other birds, such as geese and ducks, would stay away from the athletes as they preferred peace and quiet.
Ms Webb said putting the swans back after the Olympics would be challenging.
"The swans are territorial, so we have to make sure we put them back in precisely the right place," she added.
Keri-Anne Payne - a Beijing silver medallist in open water swimming - finished fourth in the women's 10km marathon.
Hungarian Eva Risztov edged a sprint finish to win the race with a recorded time of one hour, 57 minutes, 38.2 seconds.