Nicola Adams 'Bringing back gold' to Yorkshire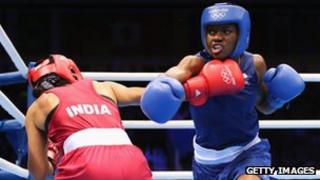 Two coaches who work with GB boxer Nicola Adams have said she will bring gold back to Yorkshire.
Adams, 29, will take on China's Ren Cancan in the women's Olympic flyweight boxing final in London later.
Bradford coach Al Belcher, who spoke to her on Wednesday after she made the final, said "she's buzzing" and would win gold.
Fellow coach Huggy Osman said there was never any doubt that the Leeds boxer would reach the finals.
'She'll beat her'
Mr Belcher, 77, has worked with the medal hopeful for about 15 years. Ms Adams trains at Mr Osman's gym in Bradford four times a week, when she is at home.
Mr Belcher said: "She's confident. If she uses her full repertoire then she'll beat her [Ren Cancan] and take gold.
"There is no one more skilful than her.
"If there was a choice of me winning the lottery or Nicola winning gold - I would definitely pick her winning the medal."
Mr Osman, who owns Huggy's Amateur Boxing Club, said: "We're ever so proud. She's worked in Sheffield but she comes down here and does all her technical work."
Three-time world champion Ren Cancan has beaten Adams before - but Mr Osman said this time would be different.
"After the world championships, we came back and worked on tactics as she was falling short and behind on points."
The London 2012 games is the first Olympics to feature women's boxing.
The fight is due to take place later at 16:30 BST.
If Ms Adams does fail to win the match, she will be awarded a silver medal.