More flood-risk homes get Environment Agency warnings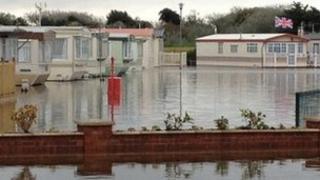 A flood warning system run by the Environment Agency has been extended to more than 250 South East properties.
The agency said the homes and businesses added to the list were in flood risk areas in Hampshire, Oxfordshire, Surrey and Sussex.
Regional flood and coastal risk manager Peter Quarmby said early warnings gave people vital time to prepare and helped them to protect lives and property.
Severe flooding hit West Sussex this summer after heavy rain.
Damaged homes
An inquiry by West Sussex County Council, Arun and Chichester district councils, the Environment Agency and Southern Water is looking into drainage systems, including whether ditches and gullies were blocked and how to improve maintenance.
More than 400 homes were damaged, roads were impassable and people had to be rescued from two holiday parks after days of torrential rain in June.
The Environment Agency automatic flood warnings service sends an automated telephone message directly to householders if flooding from rivers or the sea is expected to affect their property.
People covered by the service first receive a telephone message or letter to say they have been added to the system.
They can then also sign up to receive warnings by email or text message and can nominate a carer, friend or relative to receive the warning for them.
Residents and businesses can also ask to be removed from the service if they do not want to receive the alerts.
Mr Quarmby said many more properties were due to be added to the system in the coming months.