Bank machine ram-raids in east are linked, police say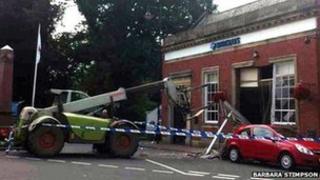 Separate cash machine raids by gangs using stolen diggers at banks in Lincolnshire and Cambridgeshire are linked, police have confirmed.
The raids happened in the early hours of 2 August at banks in Market Place in Long Sutton and Cornhill in Wisbech.
Police believe four or five men wearing balaclavas or hoods were involved in each break-in.
A spokesman for Cambridgeshire Police said no arrests had yet been made and investigations were continuing.
In Lincolnshire a gang loaded a Barclays Bank cash machine onto a 4x4 car before making their getaway.
A digger and a 4x4 vehicle are also believed to have been used by thieves to break into a branch of HSBC in Wisbech, but the offenders fled empty-handed.
It is thought they left in an Audi car. Both forces are appealing for witnesses.