Wheelchair basketball team in record-breaking challenge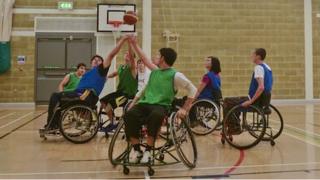 A wheelchair basketball club has begun a 30-hour game in a bid to set a new world record.
The South West Scorpions want to beat the current record for the longest wheelchair basketball match.
US university students in Nebraska played for 26 hours and three minutes to set the current record in 2004.
A boost in fundraising and support is being sought by the Bristol-based club to maintain the training and programmes it offers to people under 19 years old.
'No barriers'
The club, which has the only junior team in the South West region, has coaching from former paralympics gold medallist Jen Browning, who is also the assistant coach of the GB women's wheelchair basketball team.
She said: "To keep a club like this running, and growing, which is what we want to do, we're going to need more money to keep it alive.
"We don't actually charge most of our kids because some of them come from low income backgrounds and we want to make sure there are no barriers to people playing wheelchair basketball."
She added that any money raised was spent on sports hall hire and new equipment, such as specialist wheelchairs which cost more than £1,000.
Three of the club's members were recently selected as Olympic torch bearers, including Ben Fox who was cheered on by the crowds in Royal Wootton Basset.
Ben is targeting a place in the GB Wheelchair Basketball squad for the Rio 2016 Olympic Games.