Olympic boxer Anthony Joshua 'as good as Lennox Lewis'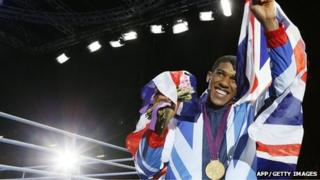 A former trainer of boxer Anthony Joshua has claimed he is "as good a fighter as Lennox Lewis" after watching him box to Olympic glory at London 2012.
Watford-born Joshua beat defending champion Roberto Cammarelle of Italy on Sunday at the ExCel Arena to win the gold medal.
His former coach Sean Murphy - an ex-Commonwealth Games gold medallist - said he was "incredibly proud" of Joshua and always knew the fighter would come good.
"He's so incredibly strong," said the former bantam and featherweight Murphy.
"I've got a bone graft in my left wrist and once I had to have it done again after he hit me while we were training with the pads because he broke it."
'Something special'
Joshua, 22, moved from the Meriden estate in Watford to London with his family when he was 14.
He only started boxing when he was 18 after his cousin Gbenga Ileyemi - the 2011 Amateur Boxing Association champion at 91kg - took him to Finchley Amateur Boxing Club.
After training with the club for about two months, Sean recalled Joshua did not turn up to training for a couple of weeks and wondered where he had gone.
"I told him to come back and train at the club because I knew he had something special in him," said Murphy.
"He's achieved so much in such a short space of time. It just shows you how good he's going to be."
"He's as good a fighter as Lennox Lewis," he added.
"He first came to light when I put him up to fight against Frazer Clarke, who was in the GB development squad.
"People were shocked that I took the bout, but Anthony won it. The coaches then came over to me and said 'where have you been hiding him'.
Former world heavyweight champion and BBC pundit Lennox Lewis said he believed Joshua did have the potential to follow in the footsteps of some of the boxing greats.
"You could tell in the last round Anthony really wanted it. He showed heart and went big," said Lewis.
"His next move is to relax, there is no rush for anything. When he decides to turn pro, he will be a great pro. He has the size to be the next world champion."