South West Scorpions record hope after 27-hour game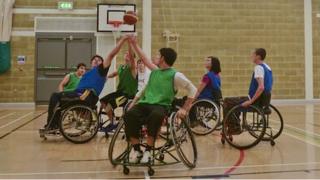 Members of a wheelchair basketball club believe they have set a new world record for the longest match.
The South West Scorpions started a game on Saturday morning and played for 27 hours and 32 minutes.
University students in Nebraska in the US played for 26 hours and three minutes for the current record in 2004.
A message on the club's Facebook page said: "Awesome work Scorpions! Too many wounds, bruises and dislocated fingers to go any longer."
'Physically exhausted'
The club, which has the only junior team in the South West, is coached by former Paralympics gold medallist Jen Browning, who is also the assistant coach of the GB women's wheelchair basketball team.
"We would have liked to have gone on for longer but some of our players had blisters the size of their palms," Ms Browning said.
"We wanted to break the existing record and add a bit more so we played until everyone was physically exhausted."
The group managed to raise £3,000 in sponsorship but it is hoped that will rise to £5,000.
"There's a lot of interest in the sport and people have been inspired by the Olympics and the forthcoming Paralympics," Ms Browning said.
Olympic torch
"But each sports wheelchair costs £1,000 and we need to have the resources to cover the cost of more chairs so more people can take part," she added.
A video has been made of the entire game and witness statements have been gathered as the group hopes the record will be verified by Guinness World Records.
The match took place at Filton College's WISE campus, in north Bristol, where the group normally trains on Sunday mornings.
Three of the club's members were recently selected as Olympic torchbearers, including Ben Fox who was cheered on by the crowds in Royal Wootton Basset.
Ben is targeting a place in the GB wheelchair basketball squad for the Rio 2016 Olympic Games.