The generation paddling towards the 2020 Olympics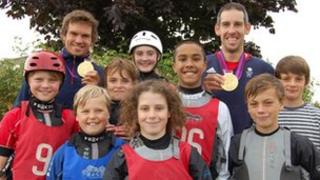 "You've got to learn how to lose," said Olympic canoe slalom gold medallist Etienne Stott. "If you don't, you won't learn how to win."
Stott was talking to an elite group of canoe slalom juniors during a surprise visit to the National Water Sports Centre, in Nottinghamshire, where he and his partner Tim Baillie started out themselves.
"It's lovely meeting kids, seeing how excited they are, enjoying the sport that we enjoy," said the kayaker. "They've got such potential, they've got such a lot to learn and they're just starting out on their journey."
With the London 2012 Olympics now over, coaches at the centre have been getting in early to try to mould the next generation of medallists ready for the 2020 games.
The BBC's Neil Heath went to meet the youngsters, and their coach Richard Ramsdale, as they went through their training routine.