Winston Churchill modified Land Rover up for auction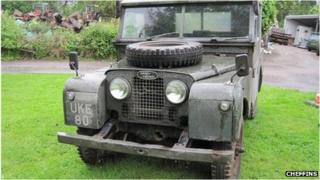 A Land Rover built for Winston Churchill's 80th birthday is expected to fetch up to £60,000 at auction in Cambridgeshire later this year.
It was modified to enable him to be chauffeur-driven around his Chartwell estate in Kent and has an extra-wide passenger seat and heated footwell.
It comes with an unsigned logbook registering it to Churchill.
Cheffins auctioneers are selling the vehicle, kept in a shed for more than 30 years, in Sutton on 20 October.
The original buff logbook shows the 1954 Series 1 Land Rover was registered as UKE 80 in the name of the "Rt Hon Sir Winston Spencer Churchill KG. OM. CH. MP. Chartwell, Westerham, Kent".
It became the property of his son-in-law, the Rt Hon A C Soames CBE, MP a few months after Churchill's death in January 1965.
It was later purchased in a sale of farm equipment in 1973 for £160 and was sold on-the-spot for twice the price.
The new owner used it to transport a horse box for a number of years before it was consigned to a shed in 1977.
In the intervening years it has only been taken out to charity events in the Kent area.
A spokesman from Cheffins said the Land Rover had 12,932 miles (20,812km) on the clock and estimated the auction sale price would be between £50,000 and £60,000.