East Anglia railway firms aim to cut weekend work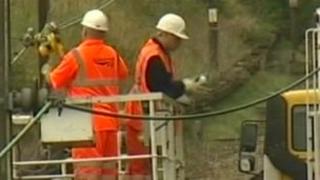 The companies running the main railway line between Norwich and London say they are looking to reduce upgrading work at weekends.
The route to Liverpool Street has had about 30 weekends of closures and bus replacement services a year since 2007.
The train company Greater Anglia said cutting weekend work may mean the overhead cabling programme takes longer to complete.
The upgrading work is being carried out by Network Rail, the track-owner.
Weekend work on the line through Norfolk, Suffolk and Essex has been suspended for the Olympics and Paralympics, but will resume again on 15-16 September.
It is due to last for up to another three years.
The Dutch firm Abellio, using the name Greater Anglia, took over the franchise to operate the trains in February.
'Diminished'
Ruud Hakett, managing director of Greater Anglia, said: "The weekend market has been ruined in the past five or six years.
"From a customer satisfaction and usage point of view, the railway has been diminished and it will take a little bit of activity to restore confidence, but I'm absolutely sure we will get there."
Greater Anglia said it is in talks with Network Rail on how much more upgrading work could be carried out at other times or while keeping some track open, but it was not setting targets yet.
Dave Ward, Network Rail's East Anglia area manager, said closing the line on 30 weekends was "misplaced".
"We've been doing a lot of work to look at what is the most appropriate way of still delivering the product, but by giving the railway back to the weekends.
"It is a long, extensive, painstaking job... and if [the work] takes a few more years longer than we originally thought, then so be it."