Bishop Benn 'delayed passing on priest crime check'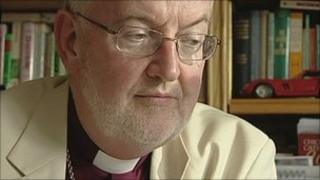 A bishop attempted to prevent a priest's Criminal Records Bureau (CRB) check - which detailed allegations of child sex abuse - being dealt with properly, it has been alleged.
The allegation forms part of an official complaint against Bishop of Lewes, Rt Rev Wallace Benn, according to sources outside the Diocese of Chichester.
A CRB check against a retired priest who has since been charged with 38 sex offences against children and young adults, was not passed on for more than three weeks, it is claimed.
The official complaint by the Diocese's independent Safeguarding Advisory Group is being investigated by the Archbishop of Canterbury's office.
It is understood the CRB check carried out on Canon Gordon Rideout in 2010 showed allegations of child sex abuse made against him in the 1970s.
It also gave details of his arrest by Sussex Police on 2002 in connection with the allegations.
'No reason to delay'
The check was sent to Bishop Benn's office in August 2010 but it is understood the safeguarding adviser to the diocese only found out about it in September - from a third party.
Canon Rideout was immediately suspended from serving as a priest.
Child protection expert Chris Mills said: "I cannot see any reason why a CRB check should be delayed - I can only see reasons why it should be acted upon immediately.
Bishop Benn declined to comment.
A letter from his solicitors said he was unable to comment because the matters raised were sub judice. It also said that there were "factual inaccuracies" with the allegations put to him by the BBC.
"Legal obligations prevent the Bishop from using confidential information in his possession from correcting the significant factual inaccuracies," they said.
Bishop Benn is fighting the formal complaint against him with the help of his legal team.
Clergy criticised
The Archbishop of Canterbury's office at Lambeth Palace said it was unable to comment because the disciplinary process was ongoing.
Bishop Benn was among senior clergy criticised last year in a report by Baroness Butler-Sloss, commissioned by the Diocese of Chichester.
The report looked into the way historical claims of abuse by paedophile priests Roy Cotton and Colin Pritchard were dealt with.
Roy Cotton worked as a priest in Brede, near Rye, in the 1990s despite being convicted of a sexual offence in 1954.
Collin Pritchard served as the vicar of St Barnabas, Bexhill, until 2007 after being arrested over sex abuse claims. In 2008 he pleaded guilty to sexually abusing two boys in the 1970s and 1980s and was jailed for five years.
The court heard Cotton had been involved in the offences but died in 2006, two weeks before Pritchard was arrested.
Phil Johnson, from Eastbourne, one of the victims abused by Cotton and Pritchard, said he was concerned by the latest allegations against Bishop Benn.
"It is quite shocking because it comes off back of huge catalogue of mistakes.
"It demonstrates that Bishop Wallace just doesn't seem to understand the importance of immediate action in safeguarding matters," he said.