Virgin 'derailed' in West Coast rail franchise renewal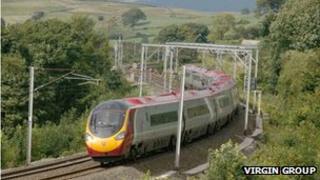 It's arguably Britain's most important rail corridor, linking London with Birmingham, Manchester and Glasgow.
And for the past 15 years Sir Richard Branson's Virgin Group, in partnership with Stagecoach, has held the franchise to operate express services between these principal cities.
So it has come as a shock to many railway industry analysts that the rival FirstGroup, Britain's biggest train operator, has beaten Virgin to the new franchise on the line, beginning in just over three months' time.
Initially passengers will notice little more than cosmetic changes, such as the disappearance of Virgin's logos from the distinctive tilting Pendolino trains.
But gradually over the next four years, First Group promise improvements including:
eleven new trains with 12,000 extra seats on the overcrowded Intercity routes;
the resumption of direct trains between Shrewsbury and London;
extra stops at Nuneaton.
All this, they say, while introducing some lower fares and better catering.
Highest bidder
The RMT union certainly thinks the glossy vision is unachievable and warns of job cuts and higher fares to meet the extra cost of First's franchise: they outdid Virgin's £4.7 billion bid by a further £750 million.
But while we are crunching the mega-numbers, it's worth remembering that every 1% increase in growth in the business is worth £700 million.
Sir Richard Branson has angrily attacked the government's decision to award the franchise to the highest bidder.
Ministers say FirstGroup won not just because their bid was higher but also because of their promises on services and fares.
But the Treasury has undoubtedly been putting the Department for Transport under pressure to maximise its earnings from rail franchises.
What next?
Much will depend on whether or not FirstGroup can meet its ambitious growth forecasts on the West Coast which Virgin doubts.
This matters, not just because of the impact on services for millions of rail passengers but also because of its bearing on the even bigger debate over High Speed Rail.
Opponents of HS2 say its business case rests on unrealistic passenger forecasts.
In selecting this bid the government has commissioned, by accident or design, a concerted corporate effort to grow the market on exactly the same rail corridor to the n'th degree.
FirstGroup will be straining with might and mane, to win over as many new passengers as it can.
Its success or failure will go a long way towards proving or disproving the market case underpinning the £36 billion high speed project linking the same major cities.
In a BBC interview, the former Director General of the Association of Train Operating Companies George Muir described FirstGroup's West Coast franchise as "the prologue to high-speed rail travel".