Dairy firm fined £20k for boiler house blast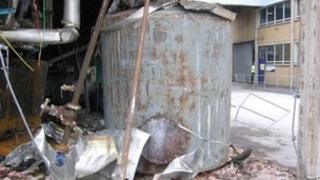 A dairy firm has been fined £20,000 following an explosion at a cheese factory in Cumbria.
The boiler house at Aspatria Creamery, on Station Road in Aspatria, was partially destroyed in the blast on 29 July 2010.
The First Milk Cheese Company was prosecuted by the Health and Safety Executive after an investigation found a blocked vent caused the explosion.
Carlisle magistrates heard no one was injured in the incident.
An investigation found the vent pipe on the tank, which should have allowed water to escape if it became too hot, had become completely blocked.
The First Milk Cheese Company pleaded guilty to a breach of the Pressure Systems Safety Regulations 2000 by failing to ensure the vent pipe was kept clear.
The company, of Pickhill Lane, Wrexham, was also ordered to pay £36,064 in prosecution costs.