East Midlands police forces probe computer misuse claims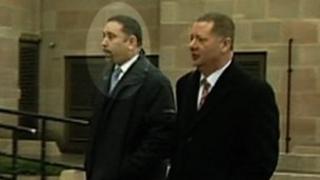 Police forces in the East Midlands have investigated more than 100 complaints about the misuse of police computer databases over the past three years.
The figures came to light following a BBC Freedom of Information request to Derbyshire, Nottinghamshire and Leicestershire police.
Most complaints involved officers and staff members looking up details of people they knew.
Police said the figures proved they took abuses seriously.
The FOI request asked how many cases of unauthorised use of police databases had been referred to the force's Professional Standards Department.
There were 28 such cases in Derbyshire, 32 in Nottinghamshire and Leicestershire had 59.
Pornographic websites
Across the three forces, 11 employees had been dismissed as a result of abuses and 19 staff had resigned either during or after being investigated.
In January, a court heard Derbyshire police officer Jasbir Dhanda used a police database to look up information about vulnerable women from Derby's red light district.
He was jailed for two-and-a-half years for having sex with a prostitute while on duty.
Another case, also in Derbyshire, involved an immigration officer looking up details about an illegal immigrant he was in a relationship with.
The majority of cases involved officers, PCSOs, support staff and specials looking up details of partners, friends and family members.
One officer was disciplined for looking at pornographic websites on a police computer.
Several investigations concluded with the allegation unsubstantiated or withdrawn while others saw staff members given warnings.
Derbyshire Police said any allegation of misconduct was treated "very seriously" and all complaints were investigated thoroughly.
Leicestershire Police said it was disappointed by the number of officers and staff who had misused databases, but said the force had robust procedures to remind employees about the rules.
The Information Commissioner's Office said: "We expect police forces to make substantial proactive efforts to check that any access to their records is for legitimate police purposes and to take action where they discover wrongdoing."