Petition calls for Virgin to keep West Coast Mainline route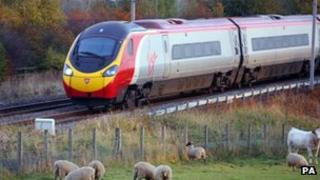 Thousands of people have backed an online petition calling for the government to reconsider its decision over the West Coast Mainline franchise.
Virgin Rail lost its bid to continue running the line and will be replaced by rival rail operator FirstGroup.
More than 25,000 people have signed the government e-petition, started by Ross McKillop, saying Virgin has "delivered a reliable service for 15 years".
FirstGroup said it would bring in key improvements for passengers.
If more than 100,000 signatures are received, MPs may decide to debate the issue in Parliament.
First Group, the UK's largest rail operator, will take over the franchise from 9 December and is set to operate the service until 2026.
'Seek public opinion'
The firm said it would introduce 11 new 125mph six-car electric trains on the Birmingham-to-Glasgow route and provide more direct services between destinations.
However, thousands have backed the petition which says: "The West Coast Mainline's current value is thanks to millions of pounds of investment and commitment from Virgin Trains - they're not perfect, none are - but they have delivered a reliable service for 15 years and turned the line around."
The signatories call for the government to "seek public opinion in these franchise bids".
"The government should look at more than the highest bidder - look what happened with G4S at London 2012."
Virgin boss Sir Richard Branson has urged people to back the campaign, but added it had been set up independently of Virgin by a member of the public.
In a blog on the Virgin website, he said: "The final decision has not been signed off and we want as much support as possible to force the government to reassess this ill-judged decision."
'Fare cuts'
The government says FirstGroup's new trains should add a further 12,000 seats a day on West Coast routes from 2016.
While FirstGroup said it already ran an award-winning service and was looking forward to welcoming new passengers.
"As a result of our plans, customers travelling with us will use faster brand new trains with more seats, serving more destinations than the current service," a spokesman said.
"There will be improved wi-fi, better catering, refurbished stations and importantly we'll be cutting standard anytime fares by 15% on average."
About 31 million passengers travel on the West Coast Mainline every year.