Thousands of dead fish found in River Weaver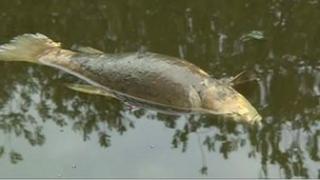 Thousands of dead fish have been found in the River Weaver in Cheshire.
The Environment Agency was notified of "fish in distress" near Winsford by anglers on Saturday.
Tests showed low oxygen levels in the water, so environmental officers have been pumping oxygen into the river.
Tom Thornett from the Environment Agency, which is investigating the matter, said: "Potential causes could be naturally occurring algae that is known to starve water of oxygen."
Mr Thornett added: "Oxygen levels have been restored significantly and we are in the process of carrying out ongoing tests to identify what caused the oxygen levels in the water to drop.
"Hydrogen peroxide is used to increase oxygen levels in the water and, in this case, may have created a build-up of foam because of reaction with small traces of detergent found in the water.
"Although this might look unpleasant, it does not pose a risk to health or the environment."
Six species of fish including bream, roach, silverfish, carp, tench and perch have been affected.
Steve Beech, of Winsford And District Angling Association, said: "The impact long term will be many years, tens of thousands of fish we cannot replace overnight.
"We've lost generations of breeding stock."