Thames Estuary 'three times more foggy' than Heathrow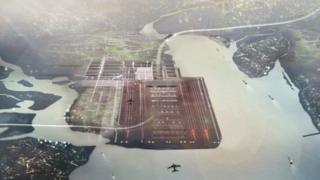 A new hub airport in the Thames Estuary would be three times more likely to be affected by fog than Heathrow Airport, according to the Met Office.
Research commissioned by Medway Council, which is opposed to the airport, was carried out over a five-year period.
Opponents of the plan believe the Met data shows that an estuary airport is unfeasible.
However, its supporters claim that aircraft technology can overcome this.
Two plans have been put forward for Thames Estuary airports - one on an artificial island, known as "Boris Island" because it has been backed by London Mayor Boris Johnson, and another by architect Norman Foster, who has proposed building a £50bn airport on the Isle of Grain.
Data was analysed from two weather stations - one at Heathrow and another in Shoeburyness, Essex, which is on the Thames Estuary.
Between January 2007 and December 2011 there were 762 hours of fog in the estuary compared to 247 at Heathrow.
Aviation review
Medway council's director of regeneration, community and culture, Robin Cooper, said: "It's particularly a problem when planes are landing, but not such a problem when they're taking off.
"So there are a number of days at Heathrow when it is closed and Gatwick as well. That would certainly be the case at Thames Estuary because it's all controlled by national air traffic control."
However, Dai Liyanege, from Demand Regeneration in North Kent, which supports the estuary airport proposal, said modern aircraft and landing systems were capable of dealing with adverse weather conditions.
"When there's water there's more fog, so that's logical," he said.
"But in this day and age we have the technology to land planes without pilots.
"Medway Council are wasting so much of my money and ratepayers' money on just trying to justify a stupid stance they've taken on this subject."
Proposals for an estuary airport may be included in the government's aviation review, which is expected in the autumn.