Fund to help vulnerable tenants manage their finances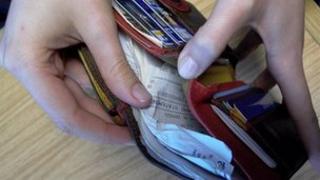 Vulnerable people in social housing in England will be taught how to open bank accounts and pay bills to help stop them spiralling into debt.
A £32m fund has been announced to help people on low incomes avoid turning to payday lenders and loan sharks.
The Big Lottery Fund will award grants to 37 projects to help an estimated 150,000 people.
Concerns have been raised that those on a low income pay a "poverty premium".
Martin Lewis, founder of consumer help website MoneySavingExpert.com, said not having a bank account meant those on a low income were more likely to turn to loan sharks or high-interest payday lenders in "desperation".
Poverty costs more
Around one in 10 people on the lowest incomes do not have access to a bank account that enables direct payments, compared with 3% of people generally.
Mr Lewis, who is backing the fund, said: "Disgracefully, it costs more to be poor. The poverty premium means, from household goods to energy bills, things are more expensive for those with little cash as they need to borrow to buy or don't get the direct debit discounts others take for granted."
In one project, Coventry Citizens Advice Bureau is building a replica flat where people will be taught how to run a home cost-effectively.
Advice on how to save heating costs, read energy meters, budget and cook cheaply will be given as well as DIY tips.
Livin Housing in County Durham has been awarded £841,415 to help deliver a scheme which will give advice on how to get hold of cheap furniture and set up a bank account.
The Big Lottery Fund highlighted the case of Leslie Wainwright, from South Bank, Teesside, who served with the RAF as a senior aircraftsman and rearmed and refuelled fighter jets patrolling the skies over Iraq in the early 1990s.
After leaving the forces, Mr Wainwright worked in an incinerator plant before having a stroke.
He then became a tenant of Coast and Country Housing when the family home came under threat of repossession.
Coast and Country Housing will receive £799,729 to support first-time social housing tenants in the borough of Redcar and Cleveland as they prepare for taking on a tenancy.
'Real eye opener'
Father-of-two Mr Wainwright, 42, said: "I used to have a blinkered view of jobless people and people on benefit until it happened to me. It's been a real eye opener.
"I'm now fit again and doing training in IT while looking for work."
Other schemes will support vulnerable people in Norwich, Great Yarmouth, Fenland, Boston, Leicester, Nottingham, Bristol, Middlesbrough, Manchester, Hyndburn, Knowsley, Liverpool, Tameside, Slough, Plymouth, Birmingham, Sandwell, Stoke on Trent, Wolverhampton, Hull, Calderdale, Sheffield and Wakefield.
In London funding will go to projects in Tower Hamlets, Ealing, Hackney, Haringey, Greenwich, Lambeth, Southwark and Islington.