Laura Bechtolsheimer celebrates Olympic gold at Oaksey pub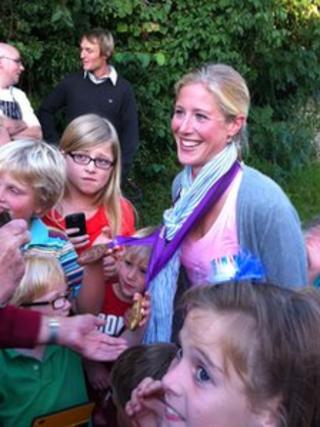 Gold medallist Laura Bechtolsheimer has been joined by up to 100 people for a celebration at a pub in Wiltshire.
The dressage rider, whose stable is in Ampney St Peter, Gloucestershire, won a team gold and individual bronze medal in dressage a fortnight ago.
She took her medals to the barbecue event at The Wheatsheaf pub in her home village of Oaksey.
"What she achieved was magnificent and I wanted to say thanks," landlord Tony Robson, said.
"We have invited some of the kids from the village to come up and say hello as many would have seen it on the TV, and so it would be great to bring them all together."
The team dressage gold was won by a trio of Gloucestershire-based riders, including Carl Hester and Charlotte Dujardin.
Ms Dujardin then went on to win a second gold medal in the individual dressage competition, with Ms Bechtolsheimer taking bronze.
In honour of Ms Bechtolsheimer's success, Royal Mail painted a postbox gold in Ampney St Peter and the trio were included on a commemorative stamp.