Frank Madden holiday scam victim feels an 'utter fool'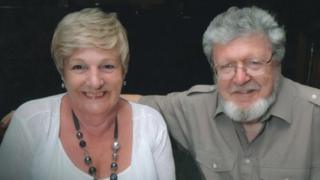 A woman tricked by conman Frank Madden into signing up to his Hotweeks holiday club scheme has said she feels an "utter fool" and is disappointed he was not jailed.
Ann Hone, 72, and husband Michael, 75, who suffers from Parkinson's disease, endured a four-hour sales pitch when they attended a presentation.
When they tried to make their excuses and leave, Madden pressured them into handing over a £500 deposit to sign up.
Mrs Hone said: "My husband had been due to take his medication an hour ago so we were just desperate to leave."
Madden, 55, from Bournemouth, was a given suspended sentence for the eight counts of unfair trading he had earlier admitted at Southampton Crown Court.
He had hid details of contracts from customers until after they signed up for membership at his company Hotweeks, and misled clients by falsely claiming his company had been approved by the Office of Fair Trading.
'Agitated and shaky'
Ann and Michael Hone, from Chandlers Ford, Hampshire, attended a presentation in Oxford Street, Southampton, in January 2011, after receiving a cold call from the Bournemouth-based firm.
Like Madden's other victims, they were told if they paid a sum of up to £2,000, they would get discounts on accommodation, flights and cruises - accumulating points as they went along.
Mrs Hone said: "They said to put aside two hours and said they'd be providing refreshment.
"We got one cup of tea and after two hours of getting nowhere, with no prices or figures, we got up to leave, saying our car parking ticket was about to run out.
"But they told us they'd check the meter and promised us luxury five-star accommodation.
"Mr Madden was then introduced to us. He was full of the Irish charm and the blarney and offered a good price for our timeshare.
"He wanted a £500 deposit there and then, leaving us £1,450 to pay to join his holiday club."
The couple were then asked to sign the paperwork.
Mrs Hone said: "The contract was on the back in tiny print. I usually rely on my husband to read it but he's now partially-sighted.
"We'd been there four hours and my husband was getting agitated and shaky.
"In the end we just signed because we wanted to get out. All that was in my head was the cooling-off period, but unfortunately this wasn't one.
"When we found out this company was not ABTA (Associated of British Travel Agents) registered, alarm bells began ringing. When we Googled 'Madden' it opened a whole can of worms.
"People had posted comments like 'Don't touch him with a bargepole' - I thought, 'Oh my God, what have I done?'
The couple were advised by a solicitor not to hand over "another penny" to Madden, who threatened to send bailiffs to their home.
Mrs Hone said: "We're OAPs, this rogue trader exploited vulnerable people and caused us a lot of unnecessary stress."
"It's sickening to see him on television leaving court looking so smug, it doesn't seem like a punishment, he should be in prison out of circulation," she added.