Boy brings Paralympic flame to Yorkshire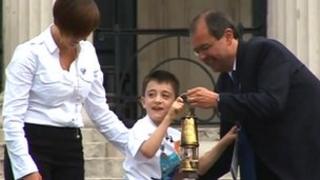 An eight-year-old boy with cerebral palsy who was unable to walk a year ago has brought the Paralympic flame to Yorkshire.
Evan Whitton, from Silsden, West Yorkshire, was in a wheelchair until an operation last year enabled him to walk for the first time using crutches.
He carried the Paralympic flame on a train from London to York where it was divided into five flames.
The flames were then taken to Leeds, Beverley, Huddersfield and Sheffield.
Celebration events were held at those locations to welcome the flames.
'Absolutely gobsmacked'
Evan, who was selected to collect the flame from London, had earlier said he was "officially nervous" that he might get stage fright with so many people watching him.
Afterwards, he said: "It was that good, I don't have words to explain it. I was just absolutely gobsmacked."
Evan's mother, Lynda Whitton, said her son had "done so well" walking in front of a crowd.
"I didn't think he was going to do it. He got very nervous just as we were about to go on," she said.
"But then he said 'no, I can do it', and he went."
Mrs Whitton said Evan, who had walked to school for the first time in May, had done a "fantastic job" after practising hard for the event over the past few weeks.
The flame was then taken on a tour of York in an open-top bus with the city's Hands and Voices Choir singing on board, before visiting a number of sports clubs and venues.
In Huddersfield, the flame was transported by The Yorkshire Regiment in a seven-tonne military vehicle to a sports club, where it was received by former Paralympian Paul Cartwright in a lap of honour style celebration.
On Saturday, the flame will be on show at the Winter Garden in Sheffield after it is brought to the city by wheelchair basketball player and five-time Paralympian Colin Price.
In Beverley, the flame will visit Beverley Minster and the East Riding of Yorkshire Disabled Swimming Association (ERYDSA) at the Leisure Complex.
The flame will also visit John Charles Centre for Sport in Leeds on Saturday.