Firefighters showcase rescue work at Lincoln event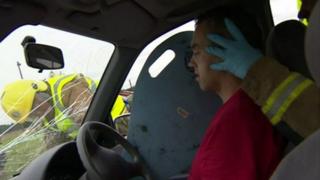 Car crashes, river rescues and collapsed buildings are all challenges being faced by teams taking part in the UK Rescue Challenge in Lincoln.
The event involves 130 firefighting teams competing against each other in a series of simulated rescues.
The main event sees 50 teams trying to set the fastest time for rescuing people from car crashes.
Other teams are demonstrating river rescues and dealing with casualties trapped in buildings.
Steve Apter, chairman of the UK Rescue Organisation, said: "The UK Rescue Challenge is the culmination of hours of dedicated training and honing of skills.
"It's a world-class event, showcasing the pinnacle of the nation's rescue expertise."
The UK Rescue Challenge was held in London last year, where the Royal Berkshire Rescue Team won the car rescue title - with the hosts winning the urban search and rescue challenge.
Dave Ramscar, chief fire officer from Lincolnshire Fire and Rescue, said the event helped to highlight the broad range of jobs firefighters were trained for.
"It's not just flames that we tackle," he said.
"Our specialist teams are on hand to deal with incidents like collapsed buildings, car crashes and international disasters."
Lincolnshire firefighters were part of the rescue effort in Japan following last year's 8.9-magnitude earthquake and tsunami in the coastal town of Ofunato.
In 2010, the team helped rescue more than 100 people after an earthquake with a magnitude of 7.0 struck Haiti.