Dead fish removed from River Weaver in clean-up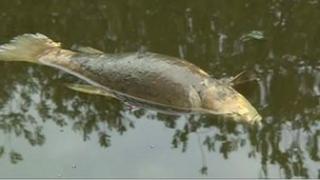 A clean-up operation has been taking place in the River Weaver after thousands of dead fish were found in the water near Winsford, Cheshire.
It is believed the fish died after microscopic algae bred in the water, leaving oxygen levels low.
Environment Agency officers worked with West Cheshire and Chester council and volunteers to remove the fish ahead of the bank holiday weekend.
It said it was continuing to investigate the cause of the incident.
The Environment Agency was contacted by local anglers last Saturday after they noticed many fish in a distressed state.
Six species
Tests showed low oxygen levels in the water, so environmental officers began pumping oxygen into the river.
Six species of fish including bream, roach, silverfish, carp, tench and perch were affected.
Tom Thornett from the Environment Agency said: "We think the microscopic algae in the water have had ideal conditions to breed, and that has stripped all the oxygen out of the water and left the fish dead."
He added that all the oxygen levels had returned "more or less" back to normal.
Steve Beech, of Winsford And District Angling Association, said: "We thought it was a major disaster, we now aren't considering it as bad as we first thought."