Burglar Maxwell Wilson begins 14-year jail sentence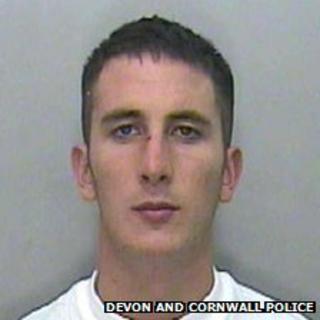 An ex-Royal Marine who went on the run for six months after escaping from the police has started a 14-year jail term.
Maxwell Michael Wilson, 24, who managed to leap over an 8ft police station wall while handcuffed, was convicted in his absence at his trial in April.
Wilson was one of two armed men who broke into a house in Honiton, Devon, in an attempt to steal £6,000 they knew to be inside, Exeter Crown Court heard.
Wilson, from Ilminster in Somerset, was captured in Liverpool last week.
Armed with knives and what appeared to be pistols, he and his accomplice broke into the house in January 2011 to try to steal about £6,000 they knew the victims had after selling a car.
Wilson, of Chubbards Cross, Ilton, had denied aggravated burglary and possession of an imitation firearm when arrested, but was identified through DNA from hair and saliva left at the scene.
His mother, Rosie Wilson, gave evidence at the trial and said her son was at a family lunch in Taunton on the day of the raid.
However he was convicted of aggravated burglary and possession of an imitation firearm.
Despite being cuffed, Wilson managed to leap over the wall of Taunton police station as he was about to be taken to the town's magistrates court, his trial was told.
Police originally thought Wilson might be in the Somerset area where his mother lives.
He could now face a charge of escaping lawful custody.