New £5m linear accelerator treating cancer in Cornwall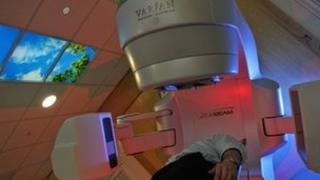 Cancer patients in Cornwall will no longer have to travel out of the county for radiotherapy to deal with some difficult-to-reach tumours, health bosses have said.
A £5m linear accelerator has been installed in a new wing of the Royal Cornwall Hospital's Sunrise Centre.
The device can target treatment within millimetres.
The machine has been funded by the NHS, with a £700,000 donation from the hospital's Sunrise Appeal.
'Good kit'
Radiotherapy is a way of treating or managing cancer by using radiation to damage cells in the area where a tumour has grown.
Normal cells are able to repair this damage but cancer cells cannot and are destroyed.
Treatment superintendent radiographer Zoe Howett said the machine's precision meant treatment could be "more intense and side-effects less severe".
She said: "It's just a very good bit of kit, really. It makes radiotherapy a lot easier for people to manage."
Patient John Hoskin, from Redruth, is being treated for a benign tumour between his eyes and is undergoing 25 days of treatment from Monday to Friday over the next five weeks.
He said: "All you see is flashing lights and you don't feel anything at all."
Consultant clinical oncologist Dr Toby Talbot said: "Six months ago we would have to send patients to London for this kind of treatment."
"This means we will be definitely curing more cancers than previously possible."