Essex Police Commissioner elections row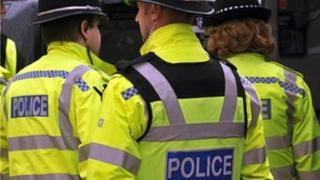 It appears all is not well with the Police and Crime Commissioner elections in Essex.
There's been criticism that finding information about the process has been a "struggle" - contrary to Home Office guidelines.
Now one former member of the police authority who has complained that potential candidates were being "vetted" has thrown her hat into the ring.
Linda Belgrove, who tells me she's been on the police authority for four years, is to stand as an independent candidate in the forthcoming elections this November.
She wants to stand because she believes that politics mustn't come into policing and she's been frustrated that party political councillors outnumber independents on Essex Police Authority.
"We all work together but sometimes political party whips affect votes, so I didn't want to see politics play a part."
Vetting candidates
Ms Belgrove is also concerned over how the elections are being handled in the county.
"I am a critic of the way the election is being run," she says.
"As Vice Chairman of the Police Authority I went to Home Office briefings, and everywhere we went, we were told to treat everyone the same.
"What Essex Police Authority were trying to do was to vet potential candidates and that's wrong."
Councillor John Gili-Ross, who is considering standing as an independent candidate, agreed and said that a briefing held last month was effectively "invitation-only".
The police authority has said it had acted within "national guidelines".
Its acting chief executive Charles Garbett, said that relevant details were being given to known candidates.
"Every effort is being made, within national guidelines, to provide relevant information to known candidates," he said.
'Significant progress'
Criticism of Essex Police Authority does not end there either.
Her Majesty's Inspectorate of Constabulary highlighted Essex as needing to "pick up the pace to ensure sufficient progress" in time for the elections.
Essex was the only police force out of 41 they visited where a full formal revisit checked on progress.
After the second visit, inspectors said they felt Essex "had made significant progress".
Let's hope the electorate are reassured.
Look out for further news on the Police Commissioner elections and the full list of candidates on my correspondent blog over the coming weeks.