Police and crime commissioner elections: Bedfordshire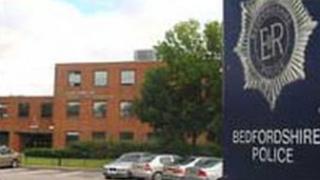 On 15 November 37 police and crime commissioners will be elected in England along with four in Wales.
The PCCs, as they will be known, will be tasked with scrutinising their force and holding it to account. They will also be able to hire and dismiss the chief constable and set the force's budget.
The commissioners will be paid and are supposed to empower local people into having a say on how crime is tackled in their area.
Nominations for candidates in Bedfordshire have now officially closed.
BBC News has taken a look at each of the police forces ahead of the elections.
Bedfordshire
Bedfordshire is one of the smallest police forces in England. The county includes rural and urban areas and has a population of about 600,000 people.
The county town of Bedford has a population of about 80,000. Luton, the largest town, has a population of about 200,000.
Bedfordshire Police has about 1,200 police officers and 124 PCSOs, supported by over 200 volunteer special constables.
More than 900 other staff, supported by 90 volunteers, also assist the police.
It is headed by Chief Constable Alfred Hitchcock.
The force's priorities for 2012-13 are to cut crime, focusing on repeat victims and offenders and reducing anti-social behaviour.
Bedfordshire Police wants to particularly focus on reducing violent crime and sexual offences.
The force is working with neighbouring constabularies Hertfordshire and Cambridgeshire to help save costs.
Partnerships include the Bedfordshire and Hertfordshire Dog Unit (2009), the Bedfordshire and Hertfordshire Counter Terrorism and Domestic Extremism Unit (2011) and the Scientific Services Unit for Bedfordshire, Cambridgeshire and Hertfordshire (2012).
The Bedfordshire, Cambridgeshire and Hertfordshire forces are still reviewing plans to outsource police services to G4S to help plug a £73m funding gap.
In June, the forces were given the go-ahead to investigate outsourcing "backroom" services including IT, finance, human resources and legal services.
But the plan was put on hold after G4S was criticised for falling short on the number of security guards provided for the Olympics.
The plan, which could affect 1,100 staff and save each force £20m a year by 2015, is being reviewed.
Funding
In 2012-13, Bedfordshire Police had a budget of £100.6m, of which £31.6m came from council tax revenue - approximately 9% of a resident's total council tax bill.
Like the rest of the public sector, Bedfordshire Police is facing reduced funding, with a budget cut of £19m (about 20%) between 2011 and 2015.
In March this year, police announced 28 redundancies among civilian staff at the force. More jobs could go in the future.
Crime and performance
The latest statistics show that violent crime in Bedfordshire dropped by 34.1% in 2011-12 compared with the previous year.
Burglary has dropped 19.8% and anti-social behaviour has dropped by 8.3%.
Overall crime has dropped by 16%, Bedfordshire Police Authority said.
According the Home Office crime survey in Bedfordshire, between 2009-10 and 2010-11, anti social behaviour dropped by 12%, but crime in general increased by 4% and violent crime increased by 15% and robbery by 17%.