Police and crime commissioner elections: Northamptonshire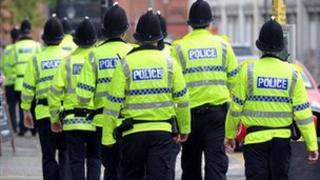 On 15 November, 37 police and crime commissioners will be elected in England, along with four in Wales.
The PCCs, as they will be known, will be tasked with scrutinising their force and holding it to account. They will also be able to hire and dismiss the chief constable and set the force's budget.
The commissioners will be paid and are supposed to empower local people into having a say on how crime is tackled in their area.
Nominations for candidates in Northamptonshire have now officially closed.
BBC News has taken a look at each of the police forces ahead of the elections.
Northamptonshire
Policing in Northamptonshire is split up into seven areas - Daventry, South Northamptonshire, Northampton, Wellingborough, East Northants, Kettering and Corby.
The county has a mixture of urban areas, such as Northampton and Wellingborough, and rural areas, such as Canons Ashby and Greens Norton.
There are 692,100 individuals living in 287,700 households across the county.
Over the past couple of years the force has been focusing on tackling anti-social behaviour, particularly in urban areas. In Spring Boroughs, a part of Northampton, the police had to ban 40 people from the area to eradicate the problem in 2010.
The force is split into three main sections: Territorial Command deals with policing in the district and community safety; Crime and Justice Command oversees investigation and intelligence; and Support Services deals with human resources and personnel.
Chief Constable Adrian Lee chairs the county chief executives board and the Northamptonshire Criminal Justice Board in addition to participating in several regional boards.
Deputy Chief Constable Suzette Davenport is responsible for professional standards and corporate services, alongside her work as the national lead for ACPO Roads Policing.
The force shares financial and procurement services with Cheshire Constabulary.
The shared service is located in Cheshire at the Constabulary headquarters in Winsford. Payroll will be based in Northampton.
There are also more than 30 projects within the East Midlands Police Collaboration Programme with Derbyshire, Lincolnshire and Nottinghamshire.
Funding
The 2012/13 budget is £120.55m which is £2m less than the 2011/12 funds. Northamptonshire Police have to make savings of £20m over four years. It said it was on track to make the cuts.
There has been a loss of 107 police officer posts as Northamptonshire Police looks to make savings to meet budget cuts.
However not all of the staff losses are down to redundancy, some people have moved to new jobs and their positions have not been filled.
In total, 421 positions have been moved or cut. They include officers, back office staff and police community support officers.
Crime and performance
Northamptonshire Police said crime across the county had fallen by more than 28% since 2003/04. It said there were 29,000 fewer victims of crime than eight years ago.