Police and crime commissioner elections: Staffordshire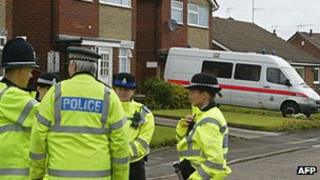 On 15 November 37 police and crime commissioners will be elected in England along with four in Wales.
The PCCs, as they will be known, will be tasked with scrutinising their force and holding it to account. They will also be able to hire and dismiss the chief constable and set the force's budget.
The commissioners will be paid and are supposed to empower local people into having a say on how crime is tackled in their area.
Nominations for candidates in Staffordshire have now officially closed.
BBC News has taken a look at each of the police forces ahead of the elections.
Staffordshire Police
Staffordshire is the 18th largest county in England, with a population of about 840,000.
The largest cities in the county are Stoke-on-Trent and Lichfield and the major towns include the county town of Stafford, Burton upon Trent, Cannock, Newcastle-under-Lyme, Leek and Tamworth.
The county also has significant rural areas including Cannock Chase and the Staffordshire Moorlands, which borders the Peak park.
Staffordshire Police covers an area of 1,047 sq miles (2,713 sq km) which is made up of nine local policing sections: Cannock Chase, East Staffordshire, Lichfield, Newcastle-Under-Lyme, Stafford, Staffordshire Moorlands, South Staffordshire and Tamworth.
Its headquarters is based on Weston Road in Stafford.
Leading Staffordshire Police is Chief Constable Mike Cunningham.
The force said its objectives were to "keep communities safe and reassured" as well as "delivering high quality policing services whilst offering the best possible value for money."
Funding
Staffordshire Police's budget was set at £191.9m for 2012/13 - a reduction of about £6m compared to the 2011/12 figure of £198.3m.
With further cuts expected between now and 2015, the force said it planned to save about £34m.
It said it had reviewed its budget with "the main aim of protecting front line policing".
It had planned to have 124 fewer officers in 2012 compared to 2011, which it said would reduce the total pay bill in 2012/13 to be £5.2m less than 2011/12.
In January, it reported job cuts had created an £8m surplus after more people left the force earlier than expected.
In a report to the HM Inspectorate of Constabulary (HMIC) the force said that 384 police officers and 387 staff could go by 2015, along with 25 community police officers, in order to meet budget requirements.
It also plans to close nine police stations.
There is currently a recruitment freeze for both officers and staff and the A19 regulation, which forces officers to retire after 30 years service, will stay in place until 2015.
In May, Staffordshire also approved a plan to share services with West Midlands police including dog handling, firearms, road policing, public order and vehicle recovery units to save £2.4m
Crime and performance
Figures released this summer showed that at the end of 2011/12 the total number of recorded crimes in Staffordshire dropped by 7% to 65,680 between April 2011 and the end of March 2012.
There were 458 robberies reported, a drop of 18% on the previous year, while burglaries fell by 5% to 7,509.
Drug offences were up 18% to 3,659.
The figures also show 62% of crimes reported were successfully dealt with, which was up from 53% in 2010-11.