Woman raped by two men on Brighton beach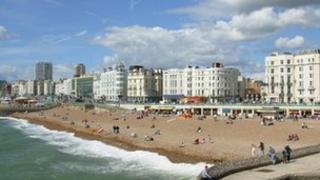 A 19-year-old woman was raped by two men on Brighton beach, police have said.
The woman, from Kent, told officers she was grabbed by the men and raped while a third man looked on.
It happened on the beach between the Coalition nightclub and Regency Square in the early hours of Friday.
Sussex Police said she had been out with a friend earlier in the evening but he had decided to go back to the hotel where they were staying.
She described the two men who raped her as being aged in their 30s.
Police have appealed for anyone who saw three men acting suspiciously or running away to contact officers.