West Midlands Cultural Olympiad events 'attract up to 2.7m'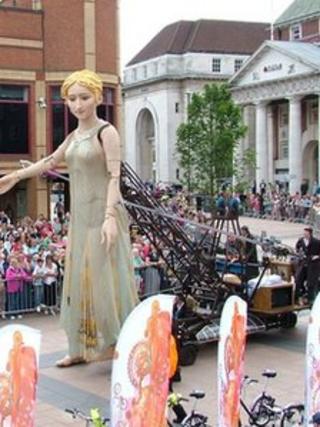 Up to 2.7m people are thought to have attended concerts and artistic events in the West Midlands during the Cultural Olympiad.
Research on behalf of the Olympiad organisers estimated 560,000 of those attending were tourists, generating £27.4m for the region's economy.
The total amount spent by organisers and audiences combined was £80m.
Events included the World Shakespeare Festival and The Voyage in Birmingham.
About 15,000 people attended the The Voyage in Victoria Square despite its first night being cancelled due to rain.
Other events in the West Midlands included the first performance of Mittowch Aus Licht, an opera featuring musicians in helicopters, and digital artwork Core at the Ironbridge Gorge.
And Godiva Awakes saw a huge puppet of Lady Godiva make its way from Coventry to London.
The Cultural Olympiad, a celebration of the modern Olympic and Paralympic movements, also included torch relay evening celebrations and Dancing for the Games events.