West Midlands disability hate crimes go 'unreported'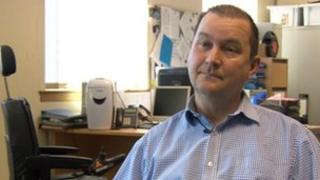 Two disability hate crimes are being investigated by West Midlands Police amid fears other similar cases continue to go unreported.
In one incident, a partially-sighted Coventry man was spat at and assaulted by a group of men.
In another, a group of teenagers tried to rob a Stourbridge woman on a mobility scooter. The unrelated attacks occurred in August, police said.
The Disability Resource Centre said disabled people are an "easy target".
Peter Millington, information manager at the Birmingham-based centre, said: "We are becoming more aware that there are lots of incidents where disabled people are being harassed verbally and sometimes physically.
"It's a hidden form of harassment that is not so well reported or documented as race hate crime or even homophobic hate crime.
"Disabled people often don't realise that they are being victims of hate crime.
"A lot of disabled people have an existence at the bottom rung of the ladder in society and put up with things that other people might report to the police."
Ch Insp Kerry Blakeman said the force had not seen an increase in figures for the hate crime.
"It's really important that if people feel that they're being targeted because they have a disability that they report it to the police, whether it's a crime or a non-crime incident," Mr Blakeman said.
"We have an effective community reference group which encompasses people from across the West Midlands who represent disability backgrounds.
"It's really difficult to say what the motive behind the two incidents is... but we're grateful that members of the public have the confidence to report the matter to us and that we can actually investigate them."