Romney Marsh nuclear waste plan opposed by 63%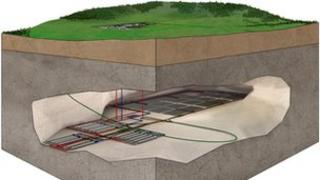 Consultation on plans to build a nuclear waste processing plant on the Romney Marsh has seen 63% of residents and 50% of businesses reject the idea.
The government is implementing a policy of geological disposal of nuclear waste and has invited communities' opinions on the planned facility.
Councillors are due to vote on 19 September, on whether to submit an Expression of Interest (EOI).
Dungeness nuclear power plant, which is on the marsh, is being decommissioned.
'Economic boost'
A report to be submitted to next week's meeting said Dungeness A and B supported more than 1,000 jobs and contributed £48m a year to to the local economy.
Shepway council has backed proposals for a Dungeness C but has said the likelihood of having a new nuclear power station is low.
Potential benefits of having a nuclear facility included the creation of about 555 jobs, road and rail infrastructure improvements, a boost to the economy from spending on construction, a community benefits package from the government, the report said.
But it said potential risks included public health hazards and environmental damage, disruption during construction, long term use of land, and an impact on the community from changes to the environment, property values and tourism.